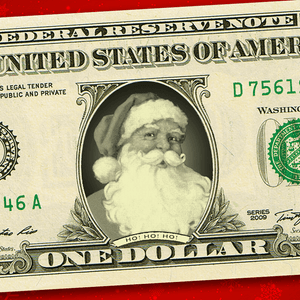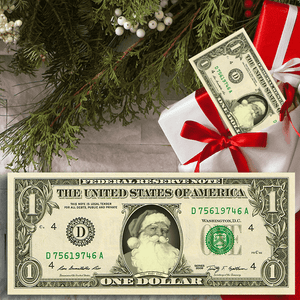 Santa Claus on a Dollar Bill
Ho Ho Ho! It's Saint Nick, aka Santa Claus, on a brand new, crisp one dollar bill! 
But, Whoa! Whoa! Whoa! Santa's not defacing currency, is he??? Nope! Our process of affixing precision die-cut labels over George Washington is perfectly legal and permitted by the Secret Service and Treasury Department. We use non-permanent adhesive, which means the bills are not damaged or defaced in any way.
Cute and collectible, the Santa Claus Dollar Bill Christmas keepsake is a perfect little gift for young and old. Oh, and they're PERFECT for stocking stuffers!
Santa Claus dollar bills come in clear protective vinyl sleeves and ship from Texas. Please note: this style is available in Classic Dollar Bill Green only.
Order yours today!
AVAILABLE FOR A LIMITED TIME ONLY